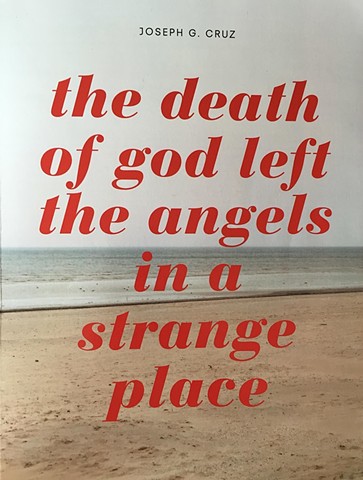 Artist book (Volume 1 of 2)
Artist Book/ Non Catalog published thru "Are Not Books & Publishing"
This book functions as a both a Historical textbook involving the V2 rocket, a catalogue of artworks generated in my research, as well as a poetic interlocution regarding how we might understand the ambivalent nature of technology and knowledge production.
606 pgs.
2015
Upcoming Exhibitions, Panel Discussions, interviews, and Lectures:
11/13/17 - 2/02/18
Two of my pieces will be featured in the group Exibition blur a collaboration with the Phoenix Institute of Contemporary Art and the MCC Art Gallery in Mesa AZ. Curated by Ted Decker
10/23/17 - 11/08/17
I will be showing work in a group show at the Evanston Art center titled THE NEW PEOPLE with Judith Brotman, Kirsten Leenaars , and Pedro Velez , Curated by Jessica Cochran
7/22/17 - 8/19/17
I am pleased to announce that I will be in the group exhibition Twenty 20 at the Los Angeles gallery
Edward Cella
8/2/16 - 9/9/16
I will be doing a residency/solo exhibition at the Evanston Art Center Aug. 2nd thru Sept. 9th. With a special participatory Karaoke performance on Aug. 13th. with Finishing School and a closing reception on Sept 9th. A casual panel discussion will occur that night with the curator Jessica Cochran and Lucas Korte. You can read an article on it by the Chicago Tribune Here
1/15/16 - 2/28/16
Please to announce I will be in a group show in Minneapolis's Waiting Room Gallery Jan. 15 - Feb. 28. It is accompanied with a really nice catalogue with essays by the curators Jehra Patrick and Mary L. Coyne.
6/11/15
I will be giving a
lecture at Kavi Gupta Editions on July 11th (5-7:30pm) along side Sarah and Joseph Belknap and Erin Washington. The theme is wonder.
5/15/15
I will be on a
Panel discussion titled "On the Horizon Line" at Chicago Artist Coalition on June 15th from 6-8p.m. Curators Steven Bridges and Jason Judd talk with myself and Sarah and Joseph Belknap to discuss our work. The work is currently on view. See link for further details regarding the exhibition and the panel discussion.
Link to digital version of the first volume of the Artist BOOK. It functions as a non catalogue towards the project titled, "the death of god left the angels in a strange place" The book will have multiple volumes and different limited edition versions. It is published thru are not books and publishing Free online downloads are available.


Interviews and articles:
Read an interview, with sixtyinchesfromcenter
Featured COVER of New City Magazine
Read an interview and thoughts on the work from Jason Judd at MAKE SPACE.
Click here to read an interview about my work with OTHER PEOPLES PIXELS's Stacia Yeapanis.



News:
I am honored to be a part of the exhibition cosmosis, curated by Steven L. Bridges (Associate curator at the Museum of Contemporary Art in Chicago). Opening May 6th -Aug. 23rd and featuring a great group of artist... Daniel Baird, Sarah and Joseph Belknap, Erica Bohm, Jeremy Bolen, Dana Carter, Carrie Gundersdorf, Jason Lazarus, New Catalogue,Trevor Paglen, Jefferson Pinder, Nicholas Sagan, Erin Washington


I am really excited to have been selected and curated by Dieter Roelstraete, Manilow Senior Curator at the Museum of Contemporary Art Chicago, to represent the BOLT residency at the EXPO International Exposition of Contemporary Art in Chicago this coming Sept. 19th-22nd. The exhibition will function as a satellite exhibition for my concurrent solo exhibition at Chicago Artist Coalition opening Sept. 6th-26th.


I'm happy to announce that my fellow 2012-13 Bolt Residents and I are receiving an Andy Warhol Foundation Grant via Chicago Artist Coalition's Award. This will help fund this year long residency as well as an artist exchange with Soap Factory in Minneapolis.
De Boer & Stock write:
On the heels of his solo exhibition not a fact, still extremely real at Comfort Station, Joseph G. Cruz has begun his year long residency at Chicago Artists' Coalition's acclaimed BOLT Residency - a highly competitive, juried, one-year artist studio residency program
dSatelite, a collaborative work created by Joseph G. Cruz and FINISHING SCHOOL at DFLUX research residency in Detroit has been selected by the Phoenix Institute of Contemporary Art for an upcoming exhibition.
Time Out Chicago rates BODY OF WORK by the Excavating History Collective at the International Museum of Surgical Science amongst the 10 Best Exhibitions of 2011!
The online Journal Requited features the Sound installation title " If a tree falls..
News:
Read an article on the solo exhibition ("If one looks...) HERE
News:
Panel Discussion: Mary Jane Jacobs, Rebecca Keller and the artist Joseph G. Cruz discuss his work in, "If one looks down at the Earth..."
Nov. 30th, 12-1p.m. LG space. 37 s. Wabash ave, rm 220, Chicago,IL 60603
News: VIEW VIDEO HERE
Solo Exhibition, "If one looks down at the Earth from the Moon, there is no virtual distance between the Louvre and the Zoo". Nov. 18-Dec. 15th in LG Space (SUG's galleries)
Opening reception: Thursday, Nov. 18th, 4-6p.m.
37 s. Wabash ave, rm 220, Chicago,IL 60603
News:
My curatorial debut in Los Angeles at RAID PROJECTS
Read review at fnews
Raid Projects is pleased to present "Stretching Destillment" an exhibition featuring the work of Chicago based artists, Sarah Belnkap and Joseph Belknap, Christopher Bradly, Jon Brumit, Anthony Creeden, Carla Duarte, Amber Ginsburg, Lia Rousset , Christy Matson curated by Joseph G. Cruz.
Opening reception for the artists: October 2nd from 7-10pm
"Stretching Destillment" – Context, bi(o)product and the parasitic, is questioned by sublimation of the body's presence and nine Chicago Artists' work.


A FICKLE EXISTENCE
August 28–October 16
Reception: Friday, September 10, 4:30–7:00 p.m.
Sullivan Galleries, 33 S. State Street
This exhibition engages the dichotomy of the natural and the artificial—where the two diverge, where they overlap, and how one is manifest in the other. The artists included investigate not only their relationships to the natural and artificial world, but also the impact of such a distinction. Through a diverse and ambitious approach to material and installation, the exhibition brings together current SAIC students and recent alumni to explore the artificially natural, the naturally artificial, and everything in-between. Curated by Rachel M. Wolff (MA 2012), curatorial assistant, Department of Exhibitions. Artists include: Marissa Benedict and Luis Palacios (GRAFT), Samantha Bittman, Joseph G. Cruz, David R. Harper, Tara Hills, Saiko Kase, Min Jung Kim, Libby O'Bryan, Allison Wade, and Katie Waugh.
NEWS:
I will be doing a residency in June at DFLUX DETROIT RESEACH RESIDENCY. (in Collaboration with FINISHING SCHOOL
News:
I will be speaking at Slought Foundation (Philadelphia) amongst my collaborators; in presentation of "an Ordinal of Alchemy" this wed.(may 5th 6:30-8:30). The exhibition will be on view from April 30th till June 14th


News:
I will be presenting a new sound piece at WAVEFORMS: REMAINS on April 24th. @ Enemy 1550 n. Milwaukee. 8:00 to 10:30.
Ryan Dunn writes,
"..the theme of remains—calling for work which considers what is left behind after a process, decay or other event has happened and disappeared. Participating artists are Joseph Kramer, Kyle Evans, Aaron Zarzutzki, Michael Vallera, Saul Rojas & David Musgrave, Benjamin Chaffee, Joe Cruz, Stuart Schmidt, Aaron David Ross, Becky Grajeda, Ryan Dunn, and 8 Ohm Danger Squad (Samuel Broom, Kendra Calhoun, Emily Harrison, Colin Hutton, Taylor Knight, Joseph Moran, Walter Morris, Hye-Jin Park, Justin Petertil, and Saul Rojas)."



News:
Collaborative project with Cabinet Magazine (one of my favorite publications.) opens March 27th.
kathryn cornelius writes,
""An Ordinal of Alchemy" opening at Cabinet Magazine Gallery
Last summer at the Mildred's Lane Artist Residency, us fellows were asked to collaborate on a project for Cabinet Magazine's gallery space. Under the direction of Mark Dion and Robert Williams, we applied principles of alchemy to the creation of the piece which will make its debut at the Cabinet gallery later this month. I am very excited to see how our project comes together, and catch-up with good friends from Mildred's Lane. Please stop by the opening if you can, or check out the show later on. Cabinet is a great magazine, and such a good resource for unfettered information.
"An Ordinal of Alchemy" - a collaborative installation organized by Mark Dion and Robert Williams, with Matt Bettine, Kathryn Cornelius, Joseph G. Cruz, Gabriella D'Italia, Scott Jarrett, Aislinn Pentecost, John Wanzel, Bryan McGovern Wilson, and Laura Wertheim
Opening Reception: Saturday, March 27th, 7-9pm Exhibition Dates: March 30–April 17, 2010
­Location: Cabinet Magazine Gallery, 300 Nevins Street, Brooklyn, NY
Gallery hours: Tuesday to Saturday­, 12–6 pm, and by appointment"